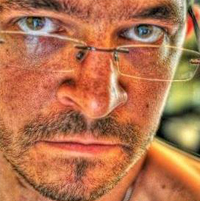 About Me
My name is Nick Pateman and live on the south coast of Blighty, in a rather windy town. Not much happens around here, that's why I work in London, near "Tech Roundabout", Shoreditch. My main past time involves pretty much anything related to technology, mainly programming. I was first exposed to programming when I was roughly 4 years old, I would watch my mother type basic games out on a Dragon32 from a book. Back then you could actually buy books with source code in, crazy, but I was fascinated how typing this weird language onto the computer could make things. My mother let me help at times, and as I got older I started fiddling with parts of the code to see what would happen.
Fast forward 21 years later and here I am, still just as fascinated with code but with a much greater level of understanding (well I like to think that's the case anyway). I've worked in a few areas of IT, from control systems automation, to content protection with media synchronisation, all the way to IT security via cloud distributed 2-factor authentication. In each of those areas, the types of solutions I have had to create and be part of, have covered a huge area of computing. And the crazy thing is, I still haven't scratched the surface.
It's not all work work work though, occasionally I do have fun, actually I try and fun as much as possible. I love taking photographs, listening to music, reading, watching films, creating things (not always using a computer, but mostly) and knocking back a glass of wine or two.
I used to do a bit of DJ'ing, and had my own monthly house/trance show on AfterHours.fm. I went under the name of DJ-Abstraction, I don't expect anyone to know that name lol, it was fun for a while, but also hard work spending about £30 - £40 on music every month and many hours trying to lay down the perfect mix, not to mention how expensive the equipment was. Anyway, it soon became more of a chore than a past time, so I left it behind. Maybe one day I will pick it back up again, who knows. Anyway, I still have all my old shows uploaded on my Amazon S3 account, you can download them here if you like that kind of thing.